Music
"Life without playing music is inconceivable to me. I live my daydreams in music. I see my life in terms of music… I get most joy in life out of music."

(Einstein)
Here at Mowden, we believe passionately in the benefits of a truly musical education. The benefits of learning an instrument are well documented: it boosts cognitive function, helps you make friends, relieves stress, gives a sense of achievement, builds confidence, engenders patience, enhances time management skills, makes you more creative and, above all, it is fun.
Music is accessible to every child in the school and the curriculum covers a broad range of topics aiming to stimulate participation in some aspect of the subject. A huge emphasis is placed on exploration, through composing and performing on keyboards, and basic theory is also covered. In fact, a number of students develop a strong interest in music theory, resulting in them taking formal ABRSM examinations.
All children are encouraged to study at least one musical instrument, ideally from Year 4, when they learn about all the instruments of the orchestra, and some children study 2, or even 3 instruments. Currently, over 90% of our pupils have instrumental lessons each week. A team of eleven visiting music teachers assist the Director of Music in the provision of a wide variety of instrumental studies, ranging from standard orchestral instruments to rarer offerings such as Northumbrian pipes and harp.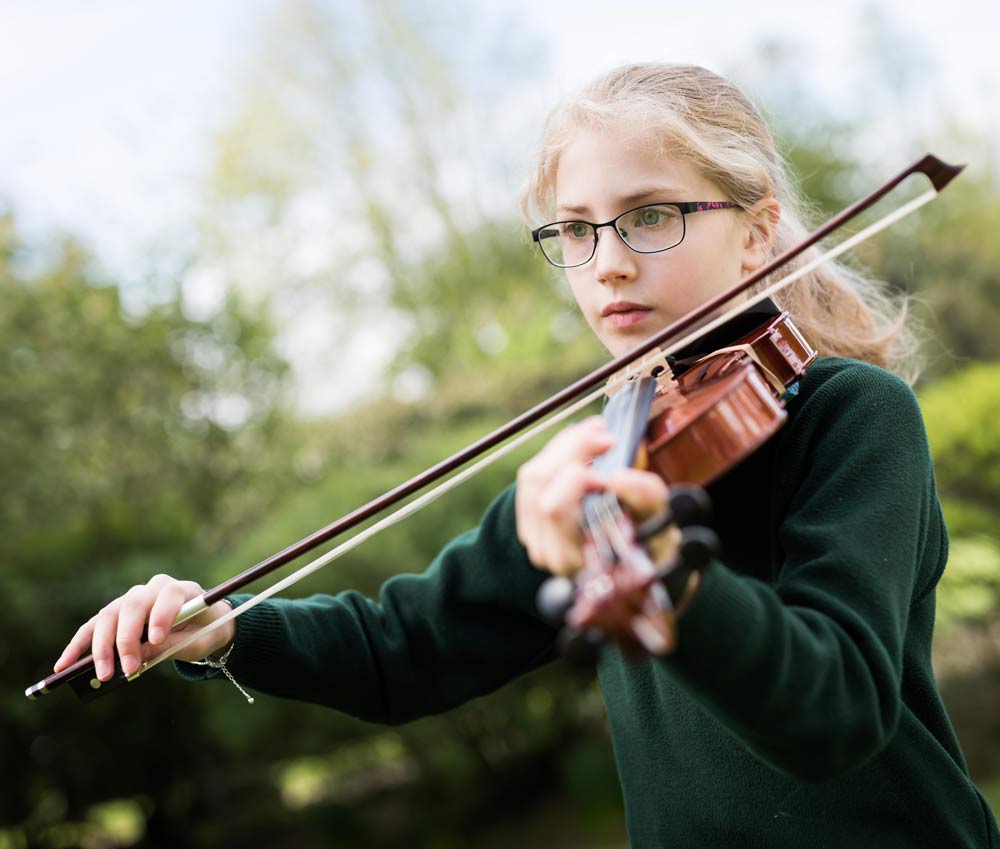 There are a number of ensembles that rehearse throughout the year, aiming to perform in at least one of the major concerts that take place regularly each term. Concert highlights throughout the year include Hexham Abbey Carol Service, Matfen Hall Christmas Concert, Leavers' Concert, and there are usually two Creative Workshops in each term. A small ensemble accompanies the hymn in two of the weekly assemblies and other ensembles perform the incidental music for school drama productions.
The Choir sing regularly and are occasionally involved in large, showcase events, combining with schools within the Prep Schools Trust. Recent successes include concerts in Winchester and Durham Cathedrals. The junior members of the school have scheduled singing lessons and they have frequent opportunities to sing throughout the year.
As an added incentive to children to perform as often as possible, the 'Music Millionaire' competition runs throughout the year. Here, the children earn 'money' for practising, as well as performing, and there are prizes at the end of each term. These results contribute towards the final House Points tally each term and there is a cup, which is presented to the best House at the end of each year.
Download a prospectus
Complete the form below and receive a prospectus and further information