Admissions Procedure
We aim to make our admissions process as smooth as possible for our prospective families. Our experienced Admissions Team is always happy to answer your questions, explain our entrance procedures or arrange a visit.
Children may join Mowden Hall School at any age from the term they turn three years old. They may join in the Autumn, Spring or Summer term and we are used to welcoming new children into all year groups at different times of year.
Mowden Hall School is a co-educational, non-selective School and is committed to equal treatment for all. We strive to create a diverse and inclusive learning environment so that high quality learning and teaching leads to positive experiences and outcomes for our pupils.
Individual Visit
We would be delighted to welcome you to the School for a visit and to hear more about your child. We will arrange for you to have a tour of the School and to meet the Head, Mrs. Martin when possible. We are also offering Virtual Tours and meetings.
Registration
Following a visit to the School, registration is the first formal stage of the admissions procedure and early registration is advised. There is a £100 Registration Fee to pay at this point. Registration Forms are available from Mrs. Debbie Freeman-Griffith, Head of Marketing and Admissions, dfgriffith@mowdenhallpst.org
Taster Days & Acceptance
I will arrange an appointment for your child to either attend one of our 'Discovery Days' (for our EYFS children) or to have a Taster Day with us which may sometimes include an interview with Mrs Martin, this occurs the year preceding entry. I will write to your child's current school for a confidential reference before we are able to confirm your place. Once a place is offered, completion of the Acceptance Form and payment (£1,000) of the Acceptance Fee will ensure a place is reserved for your child. The Acceptance Fee is refundable after your child has left the school. If it is not possible for a child to attend a Taster Day – if living overseas for example – then we will request an English report and a Skype interview with the Head.
Visual Admission Process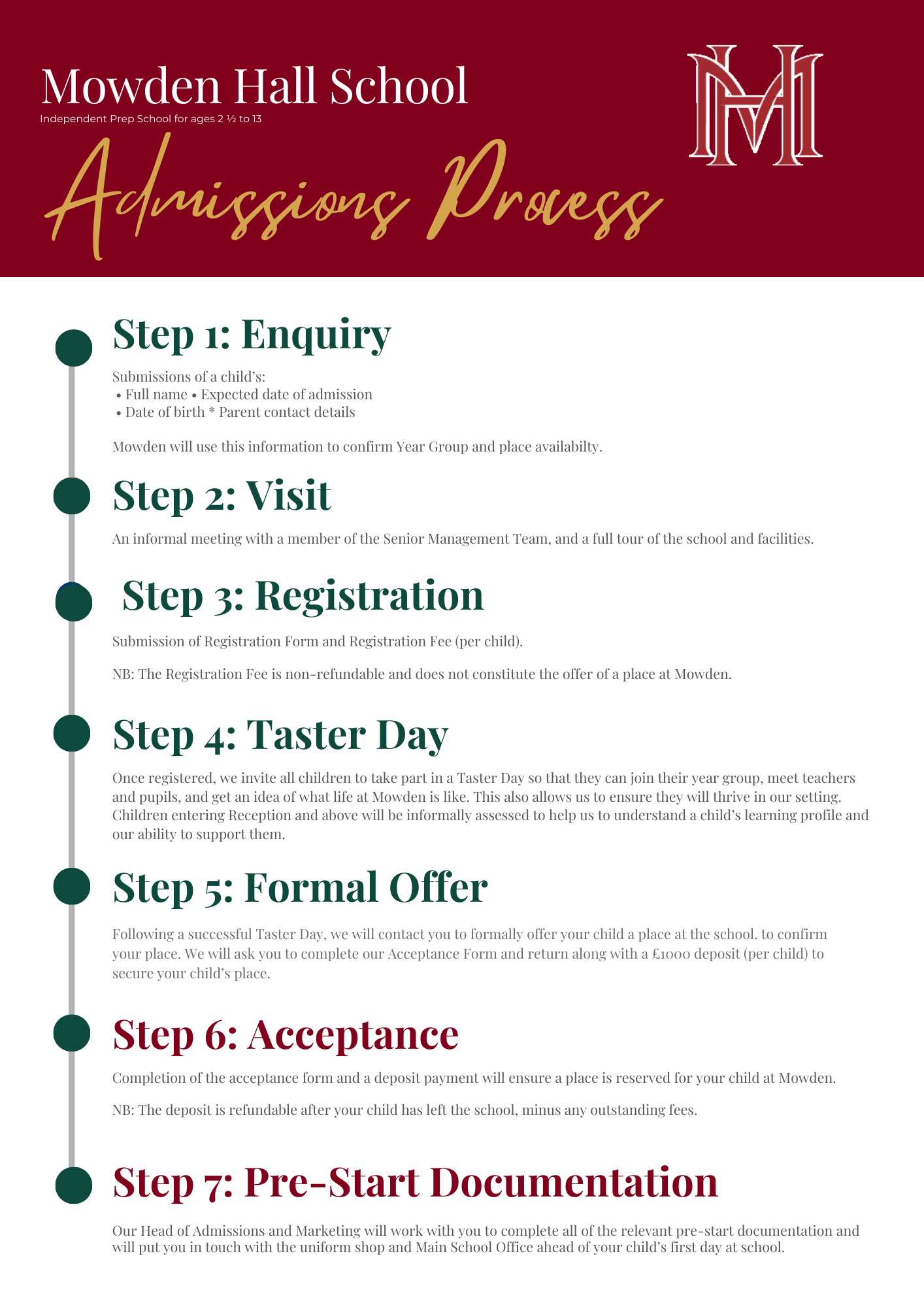 We would be delighted to discuss the opportunity of your child joining us and aim to make the process as friendly and straightforward as possible. Register Your Interest Here.